HAND & FOOT CARE
---
The ultimate indulgence treatments specially designed to pamper, soften and relax, tired and stressed, hands and feet. SPA MANICURE - 60 mins Experience a deluxe hand, nail and cuticle treatment. Hands are soaked and softened followed by a gentle exfoliation, nails are filed and buffed, your hands are treated to an application of a softening hand mask followed by a relaxing massage and nail paint. $65
PEDICURE - 45 mins Soak, foot scrub, cuticle work, file, buff, polish. $60 MANICURE - 45 mins File, buff, cuticle work, polish. $35 ULTIMATE INDULGENT PEDI SPA TREATMENT - 75 mins Your feet will be revived with a refreshing foot spa, followed by stimulating pedi spa exfoliation, removal of rough and dry skin. Your cuticles are treated. Embrace a relaxing and nurturing foot massage and foot mask. Walk on air after your treatment is completed with the application of a foot cream, finishing with polish. $75 Please note an extra $12 is charged for french polish on either hands or feet.
---
WAXING PACKAGES
---
Ladies Waxing Packages
Eyebrow & lip or chin - $32
1⁄2 leg & bikini - $45
1⁄2 leg, bikini & underarm - $65
1⁄2 leg & brazilian - $79
1⁄2 leg, brazilian & underarm - $89
1⁄2 leg & underarm - $45
1⁄2 leg & xx - $58
1⁄2 leg & xxx - $75
Full leg & brazilian - $89
Full leg & bikini - $62
Top half & bikini - $52
Top half leg (thighs) & brazilian - $89
Full leg, bikini & underarm - $80
Full leg, brazilian & underarm - $109
Ask about any combinations.
WAXING
FACE
Eyebrows - $20
Lip -$10
Lip and chin from - $17
Sides of face - $20
Full face - $35
BODY
Underarms - $20
1⁄2 arm - $25
Full arm - $32
Chest & stomach - $40
Stomach - $20
Snail trail - $12
Lower back - $20
Toes - $15
For your intimate area using both hot & strip wax for the most sensitive areas. Basic bikini - $25
x bikini - $30
xx bikini - $35
xxx Brazilian - $47
xxxx Brazilian - $57
Full leg - $48
Top 1⁄2 leg (thighs) - $37
3⁄4 leg - $35
1⁄2 leg - $30
MALE WAXING
Eyebrows (mid only) - $10
Ears or nose -$15
Full brows (incl trim) - $25
Front or back of neck - $25
1/2 arm - $30
Full arm - $40
Underarms - $28
Full chest (incl stomach & t-shirt line) - $59
Full back (incl neck) - $59
1⁄2 leg - $38
Full leg - $60
TINTING
Brow tint - $15
Lash tint - $22
Lash & brow tint - $32
Eyebrow wax, lash & brow tint - $50
Eyebrow wax & lash tint - $39
Eyebrow wax & eyebrow tint - $32
---
FACIAL TREATMENTS
---
Advanced Natural facial treatments offer a variety of facials according to your skins needs. Our professional beauty therapists will select a program suited to you. We will also recommend the necessary take home care products after every facial so you can have great skin everyday.
CONSULTATION - 20 mins
Our qualified therapists will thoroughly analyse your skin with a diagnostic lamp to address your main concerns. Whether it is acne, pigmentation, rosacea, dry, dehydration, ageing or a sensitive skin. Together, we will work towards your skin care goals to give you optimum results. Redeemable when upgrading to your facial $30
LUNCH TIME TREAT - 30 mins
For those who need a fresh face. This facial provides your face with a mini cleanse, tone, exfoliate, massage and moisturise. Leaving your skin glowing and you'll still have time for lunch. $55
RELAXATION and THERAPEUTIC FACIAL
A divine relaxing facial for those who are always on the go and just want to lay down and have their face nurtured. We will create a beautiful ambience with soft music, candles and a cleansing/ rebalancing facial; includes a decolletage and facial massage. $99

SIGNATURE COLLAGEN FACIAL
Our pure avian collagen sheets give an intense delivery of collagen into your skin, showing immediate visible results for treating dehydration. Pure collagen firms, tones and plumps up sagging skin. Improves elasticity and refines the appearance of fine lines and wrinkles. Absolutely divine. $139
DEEP CLEANSE AND PURIFYING FACIAL
Concerned about clogged pores, excess oil, black heads and spots? Leave your face in our hands, and we will unclog everything, extractions included. Marine ingredients provide nourishment and hydration. Pure seaweed sheets are used to deliver vitamins, minerals and trace elements that your skin needs. $149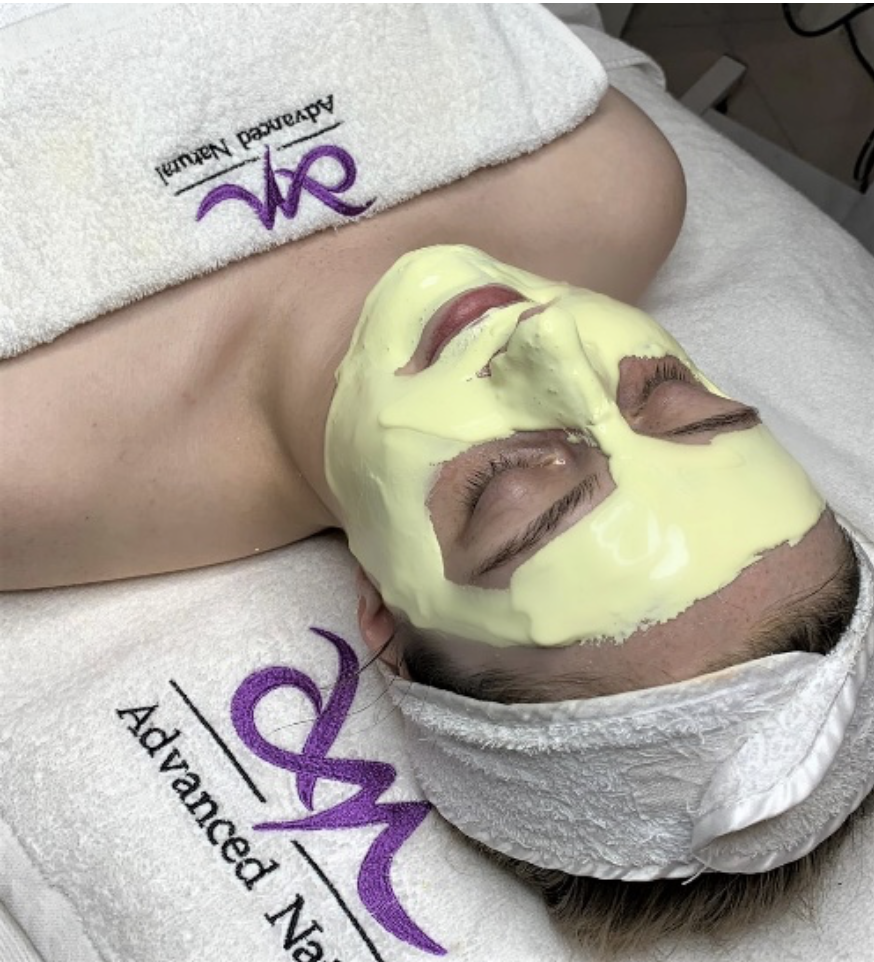 INTENSIVE HYDRATING FACIAL
For those skins that, no matter what you do your face still lacks that lustre. For your face to look its best, it needs hydration. A thermal elastic mask is used to prevent moisture loss, creating a plumped luscious looking skin. This facial will leave you feeling as though a litre of water has been injected into your skin – Vibrant. $120

DELUXE CAVIAR FACIAL
Come and experience what all the rave is about! Caviar was eaten back in the ancient roman days and did absolute wonders for the soul. Come and feel what caviar can do for your face, delivering oxygen instantly for the regeneration of skin cells. Rejuvenating and repairing. Give your face the meal that it deserves. $139
INTENSE LIFTING & FIRMING FACIAL
100% Anti-ageing. This facial gives your face an intense infusion of enzymes that activate to improve circulation, creating a lifting effect of sagging tissue around the face, neck and chest "A total gym workout for your face" $139
HYDRO COOL FACIAL
As the name suggests, this facial hydrates and cools even the most sensitive of skins. With an infusion of concentrated serums, marine actives, vitamins and minerals – eliminates heat. Great for soothing a sensitive skin, also reduces redness, strengthens acne prone and dull skin. Put life back into your face $149

PIGMENTATION FACIAL
Australian sun can be very harsh on our skin, so can hormones, stress, having children, medications and uric acid. All these are reasons why our skin suffers from pigmentation. This facial uses bearberry and many active ingredients to help slow down the production of melanin that causes pigmentation $99
---
SPECIALIST TREATMENTS
---
RESURFACING TREATMENT FACIAL When you look in the mirror and see uneven skin tone, lines, wrinkles and lifeless skin, then you, 100%, have to have this facial. It's the ultimate skin resurfacing treatment that delivers incredible results. $139 30% AHA REFINING TREATMENT A selection of AHA's are used in this facial to aid in the process of stimulating cell regeneration, which expose new cells to improve skin texture and refinement. Glycolic and salicylic acids break down dead skin build up giving you a more healthier looking skin. $65 Buy four get the fifth one free. 2-STEP ENZYMATIC QUICK PEEL A delicate formulation of homeopathically prepared active ingredients that are targeted to stimulate the deeper cells, forming a layer to promote new healthy cells, whilst at the same time dissolving and binding dead surface skin together ready to be digested by enzymatic action. Excellent for aged skin, sun damaged, oily, acne and uneven skin toned skin. $160
We at Advanced Natural highly recommend that you take home our skin care to avoid and adverse reactions. SKIN NEEDLING Intensive Corrective Collagen Induction Therapy. Improves the appearance of Superficial Pigmentation, Fine Lines, Wrinkles, Scarring and Stretch Marks. Plumps the skin by stimulating collagen within the skin. 3 treatments recommended for ultimate results. $195 per treatment or Prepay 2 treatments for $299
---
BODY & SPA TREATMENTS
---
The Advanced Natural Body and Spa treatments are designed to release stress and tension, creating a balance of relaxation and tranquillity to the mind and body.
DETOXIFYING BACK OR CHEST TREATMENT
A deep cleansing and purifying treatment for congested and Sluggish skin. Treatment includes a cleanse, steam, scrub, extractions, massage and mask. A Facial for your Back. $120
CELLULITE & BODY CONTOURING WRAP
Prepare your senses for this ultimate body treat. An enzymatic detoxifying scrub that eliminates dead surface tissue. Serums infused to remineralise your body and warm oils massaged to stimulate circulation of the entire body. This treatment will leave your body feeling firm and toned. Replenishing and Totally Invigorating. $180
CLAY BODY MASK
Deeply cleanses the body. Intense nutrients are infused to improve circulation, followed by a refining clay mask, then wrapped up in a thermal sheet to detoxify and nurture. This treatment will relax and soften your skin. Totally nurturing for your soul $150
BODY POLISH
An intensive treatment for exfoliating dry skin, using lime and citrus blends to refresh leaving your skin feeling clean, soft and silky smooth great to have before a spray tan. Totally invigorating! $75
---
SPA PACKAGES
---
PICK ME UP PACKAGE $180
Intensive Hydration Facial, Back & Shoulder Massage, Foot Massage.
TOTAL INDULGENCE $250
Advanced Natural Signature Collagen Facial, Full Body Massage, Ultimate Indulgence Pedi Spa Treatment
ESPECIALLY FOR HIM $260 2hrs
Head and Scalp Massage, Back & Shoulder Massage, Purifying Marine Facial, A Nurturing foot treat.
BODY BLISS $220
Body Buff & Polish, Clay Body Mask, Scalp Massage.
BODY DETOX $260
Body Buff & Polish, Cellulite & Body Contouring Wrap, Facial Massage.
WEDDING BLISS $360
Body Buff & Polish, Deluxe Caviar Facial, Eyebrow shaping & Eye Lash Tint, Spa Manicure, Ultimate Indulgence Pedi Spa Treatment.
---
EYE, NECK & CHEST CARE
---
Bright, toned and smooth eye contours reflect a youthful healthy glow.
INTENSIVE COLLAGEN EYE TREATMENT
Anti-wrinkle treatment. Improves fine skin texture. Revitalizes tired and puffy eye contours. Restores smoothness and texture of delicate eyes. $60
INTENSIVE NECK TREATMENT
An Anti-Ageing, Rejuvenating treatment that reduces skin crepiness and sagging skin via an Intensive nourishing and hydrating treatment $75
---
IPL TREATMENT
---
A state of the art IPL system used for permanent hair reduction, skin rejuvenation, pigmentation, vascular lesions and acne treatments. Please see leaflets for pricing and servicing. Hair free is totally liberating!
---
SKIN NEEDLING
---
Collagen induction therapy – Micro-channels are created using a machine with a disposable multiple needle head to puncture the skin to stimulate skins natural healing response for new cell rejuvenation on the surface and the deeper layers of the skin. Treatment for lines, wrinkles and scarring $195 per treatment or Prepay 2 treatments for $299
---
MICRODERMABRASION
---
Using diamond head to abrade the skin surface. Like a buffing polish on your face. Ideal to treat congested, scarred and many different skin conditions.
$95 per treatment $35 for add on to any facial treatment.
---
MASSAGES
---
Deep Tissue, Swedish - All 1hr $95
Half hour back, shoulders, glutes - 1⁄2 hr $55
---
SPRAY TAN
---
FULL BODY
A safe, fantastic and very natural streak free tanning colour. $45
---
---
Advanced Natural Beauty Spa in Melbourne
Beauty Services We Provide
Advanced Natural has a skin day spa in Melbourne to rejuvenate and beautify you, helping to optimise the health of your skin and giving you an enviable glow. As one of the leading luxury day spas in Melbourne, we use our own creams, lotions and serums to deeply nourish your skin. The homeopathic remedies in our products allow them to seep further into the skin, delivering moisture and nutrients where they're needed most. We also use only the highest quality, 100% natural beauty products that are organic and cruelty-free.
IPL Treatment in Melbourne
Intense pulsed light is a form of therapy that can remove wrinkles, spots and unwanted hair. Look younger and better groomed with the easy application of IPL treatment in Melbourne.
Laser Treatment in Melbourne
Laser treatment can be used for numerous skin concerns, including pigmentation, scarring, vascular conditions (redness), hair, skin tightening, texture modification and wrinkle reduction.
Laser Hair Removal
Laser can be used for hair removal with highly satisfying results. With laser hair removal, you can enjoy long-lasting hair-free skin.
Waxing Packages
For those who want a simple and no less effective alternative for unwanted hair, we offer convenient waxing packages for various body parts.
Deep Tissue Massage in Melbourne
If you feel like you're all tied up in knots, our deep tissue massage in Melbourne can relieve your tension and relax your muscles.
Visit Our Beauty Spa in Melbourne Today
If you want to rejuvenate yourself and feel pampered from head to toe, visit our beauty spa in Melbourne today. Call Advanced Natural today on (03) 9553 0819 to make a booking.
​
​
Book an appointment with one of our natural beauty salons for the best natural treatments and therapies in Melbourne.